90mm Cup Sealer Machine
Our Bubble Tea Sealer Machine comes free with a 90mm or 95mm sealer ring.  When picking your sealer machine you want to make sure that the cups you're using and the size of your sealer machine are the same.  A top diameter of 90mm is a common size for 22oz PP Cups and can be sealed by our 999SN Sealer Machine.  95mm is also a common size for 12oz, 16oz and 24oz PP cups.
Picking the right cups is one of the most important things to consider for your store and if you're using a sealer machine you will want to keep all your cups the same diameter.  This will make it easy to seal all of your cups without having to use an adapter ring in between seals.  The type of material your cup is made out of is also very important.  The most common type of cup material is PP and PP cups come in a variety of different sizes.  PET plastic is similar to PP but PET cups are made out of a harder type of plastic that makes PET cups more expensive than PP cups.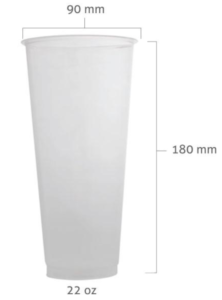 Also make sure that you are using the correct type of sealing film for your cups.  Basically your sealer film and cups should be made out of the same type of material.  So if you have a PP cups then you will want to use PP sealer film, PET film with PET  cups.
Sealer machines can be great for bubble tea, juice shops, coffee shops or any restaurant or store that has to-go drinks.  Our sealing machines have also been used to seal Sushi, Italian Ice, Cotton Candy, Frozen Yogurt, Crackers, Industrial Products and more.
Whatever size cup or container you're sealing, we can create a sealer machine for it.  To order a 90mm sealer machine, just make sure that you check the box on our product page.