Paper Cup Sealer Machines
Paper Cup Sealing Machines
are a great way to stop using plastic and switch over to paper cups in your drink shop or restaurant.  Paper cups help reduce plastic waste and can even be customized with your logo on them.  Our Sealer Machine can seal PP, PET and Paper cups and containers.  Paper cups usually come in two different sizes, 90mm and 95mm with 90mm being the most common. 
To seal paper cups or containers you need to first find out the top diameter of your paper cup and then make sure it is the same size as your sealer machine.  Our sealer will come standard able to seal 95mm cups so if your paper cups are 90mm then you will need to use a 90mm adapter ring which you can order direclty with our Sealer Machine. 
Most paper cups are also coated with plastic or wax to make them water-proof.  You will need to make sure that the type of plastic your cup is coated with is compatible with your sealer film.  The two most common types used with paper cups are are PP and PE plastic coating.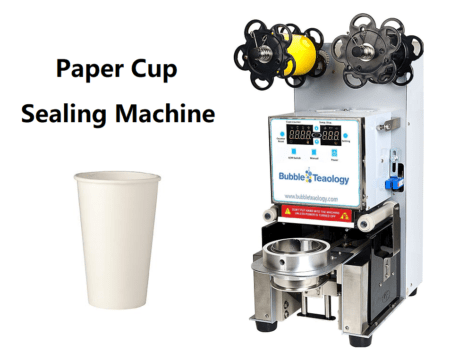 Sealing Paper Cups and Containers
If you already have a sealer machine you might be able to seal paper cups with an adapter ring.  A paper cup sealer machine adapter ring can be made to seal any cup or container that is smaller than your original sealer machine mold.  For example, if you order the 95mm sealer machine, then you will have a 95mm mold and you can then use a smaller adapter ring to seal smaller cups.  So with a 95mm sealer machine you could also seal a 90mm cup with a 90mm adapter ring.
However you will not be able to seal a larger cup.  For example, you would not be able to seal a 98mm cup if your original mold is 95mm.  For this you would need to use the 98mm Universal Sealer Machine which has a fixed mold of 98mm and also comes with a 95mm adapter ring so it can seal both cup sizes.
It is also important to note that whenever you are sealing a smaller paper cup, there will be a small amount of plastic left over around the edge of the cup.  This is because the paper container sealer machine will still cut the sealer film for the original size of the mold.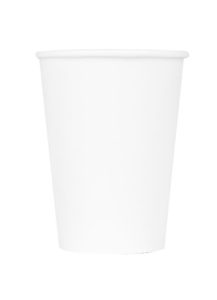 Using paper cups in your bubble tea shop or restaurant just got a lot easier.  Our paper cup sealer machine will make sure that your cup is sealed properly and we can even custom print the paper cups with your logo on them!
Sign up below to get your Free Bubble Tea Machines Guide!