Plastic Cup Sealing Machines are perfect for bubble tea cups, small containers, smoothies, yogurt, to-go drinks, alcoholic cocktails, draught beer, and more!
A high-quality sealing machine can save you time and money but picking the right one can be hard to do.  There are a lot of to choose from and the price will vary a lot too.  We only carry the Best Cup Sealers that are 100% Authentic Taiwanese made and come with a 1 Year Warranty and video support even after your warranty has expired.
How to Pick the Best Sealing Machine:
The most important thing for picking the best sealing machine is the top diameter of your cup.  This is what is going to fit into the upper mold of the sealing machine and if it is too big or too small then it won't seal properly.
The two most common cup sizes are 95mm PP Cups and 98mm PET Cups. 
Our 999SN Sealer Machine comes standard able to seal 95mm PP Cups.  These are the most popular type of cups our customers use and they come in 12oz, 16oz, and 24oz sizes.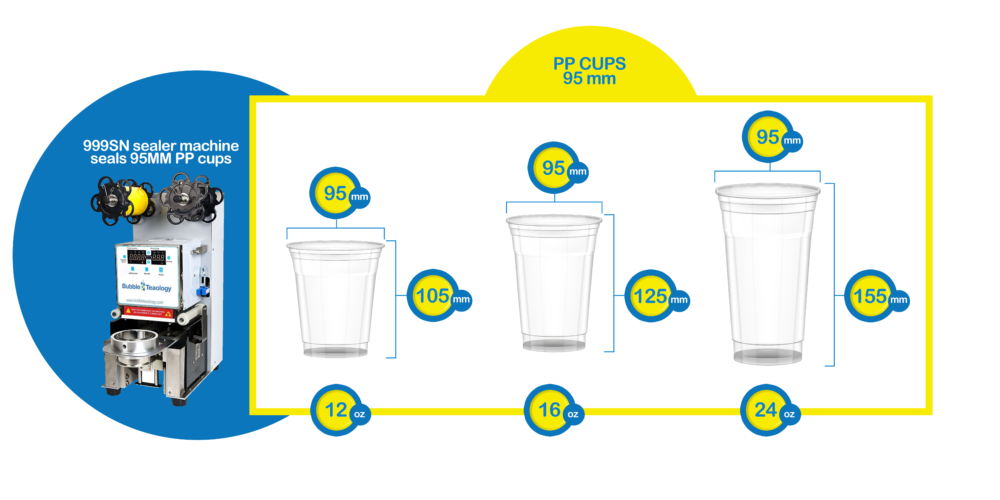 You can also seal 98mm PET cups by upgrading to our Universal Sealer Machine.
Some other common cup sizes are 90mm for paper cups, 120mm for Jumbo 30oz cups and if you have a different cup size we can also make a custom size sealer machine for you.
Choosing Cups and Film for Your Machine:
You can order 95m PP Cups, 98mm PET Cups, and 120mm Jumbo Cups and sealing film directly from our website by clicking here.
Picking the right sealing film is important.  PP cups will need to be sealed with PP film and PET cups will need to be sealed with PET film.  Also, if you have jumbo cups then you will need to order jumbo film.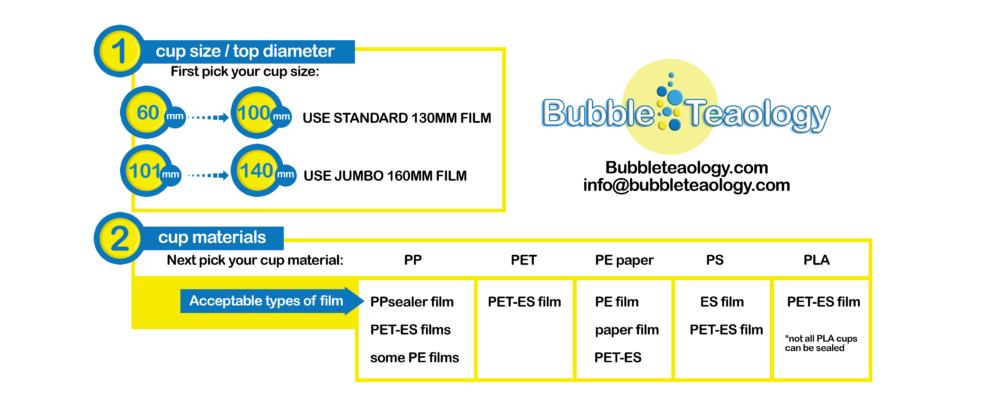 How to Choose the Right Sealer Film
Cup Sealer machines are essential for bubble tea shops, juice shops, or any place that serves drinks.  Automatic plastic cup sealing machines are also faster than using regular lids and use less plastic which is one of the reasons why they're becoming so popular.  They work by creating an airtight seal on whatever kind of cup or container that you use.  They can be used to seal both hot and cold drinks, yogurt, soup, cosmetics, and more!
It's important to remember that not all sealer machines are created equally and it's really important to make sure that you pick the best one.  For example, if you're using 95mm PP cups, you will need to make sure that your lower mold is made for 95mm cups.  If it's off by a few millimeters then your cup won't seal properly.  You will also want to make sure that your cups and sealer film are made out of the same material so that they will seal properly.  For example, PP cups with PP sealer film and PET cups with PET sealer film.  Click Here for Help Picking the Right Sealer Film.
Not only does using a sealing machine help you look like a professional bubble tea shop it can actually save you money.  A single roll of sealer film will cost about $40 and can seal about 3,900 cups, that's only $0.01 for every seal!  Traditional lids cost about twice that much with the average box of 2,000 lids costing about $40.00.
Another benefit is that sealer films use less plastic than traditional lids making them better for the environment.  This will also cut down on your storage needs.  A single roll of sealer film can seal 3,900 cups, compare that to a box of traditional lids!
Putting your own logo on your sealer film is also a great way to promote and build your brand.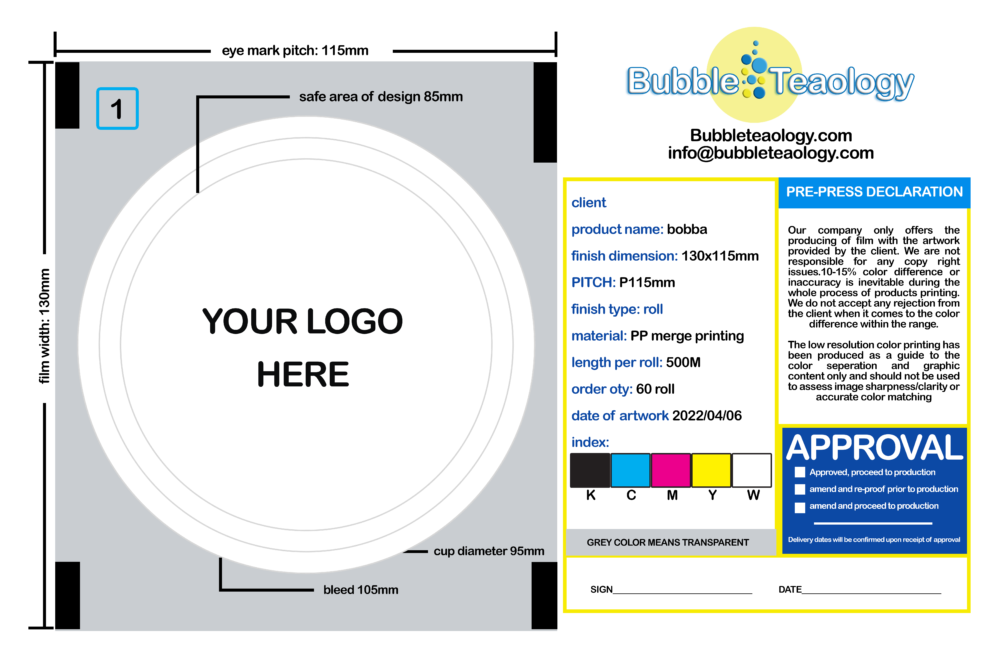 Custom Bubble Tea Sealing Film
Custom Size Sealing Machine:
While sealing bubble tea is what made our sealer machines famous, we also have helped clients seal yogurt, cotton candy, soup, gelato, to-go alcoholic beverages, dips, cosmetics, and more!  We can build a custom-size cup sealing machine specifically for your container and your product.  We do this by creating a specially designed mold from your container to make sure it creates an air-tight seal. Your logo can also be put on the cup sealer for free.
Sealing your products will help them last longer and give them a more professional appearance.
We can also create a peel tab for your container so your customers can easily peel open your products.
999SN Sealer Machine:
Our 999SN Plastic Cup Sealing Machine is the most popular model we offer. It features a durable stainless steel design that has earned the trust of bubble tea shops around the world. Our troubleshooting manual will help you fix your sealer machine quickly.
The 999SN sealer machine can be used in automatic or manual mode. People around the world trust it for its quality and reliability. We back that up with a 1-year warranty and 3 years of video support.
How To Pick The Right Machine?
We know that a sealer machine can be a big investment for your business and that's why we're here to make sure that you pick the right one.
There are a few different types to choose from and the most important factor is the top diameter of the cups or containers that you'll use.  Our sealers can seal Paper, PP Plastic, and PET Plastic Cups but you will need to make sure that you pick the correct size for your cup or container.
95mm is the standard diameter of PP boba tea cups and the diameter will be the same no matter if you're using 12oz, 16oz, or 24oz cups. PP cups are the most popular type of plastic cups used for cold drinks.  If you're unsure what type of cup you have, you can look at the bottom of the cup to see what material it is made out of.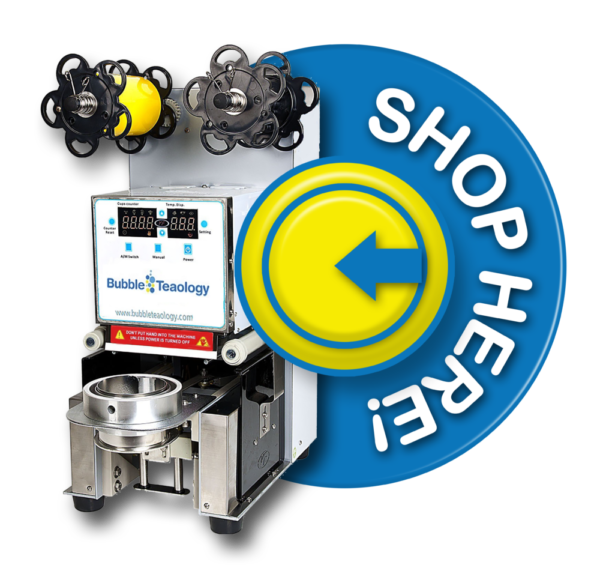 Sealing Machine Specifications:
Our plastic cup sealing machines can seal plastic PP, PET, and Paper Cups.  Most Paper Cups are 90mm, PP cups are usually 95mm and most PET cups are usually 98mm.  Please check your cup size first before ordering.
Your sealer film material will need to be the same material as your cups to seal properly. The type of sealer film you use depends on the type of cup you're using. For instance, PP sealer film is used to seal PP cups, while PET sealer film is utilized to seal PET containers.
Certification:
Comes standard with CE (we also have UL Certification available and UL EPH Certification Available).
Power/Voltage:
Available in both 110v (USA) or 220v (EU).  Please specify which voltage you require when purchasing.
Shipping Info:
We offer FREE SHIPPING on all Bubble Tea Machines! We ship using DHL or USPS and most orders will arrive in about 1 week. Custom orders will take 2-3 weeks.
Warranty Info:
1-year manufacturer warranty. In our store, you'll only find authentic sealer machines made in Taiwan. These sealers last, so you can be sure you're getting a quality product. We offer three years of free video support after your order. We have found that 99% of problems can be quickly and easily solved by watching our support videos.
BubbleTeaology Is "One Of The Best Cup Sealing Machine Manufacturers in the world!"
Check out our: Bubble Tea Sealer Machine and BubbleTeaology Has The Best Cup Sealing Machines and How To Open A Bubble Tea Shop