Custom Print Boba Cups | Plastic Bubble Tea Cups
-15,000-20,000 Cup Minimum Order Quantity
-PP, PET, Paper and PLA Products
– Custom Printed Sealer Films
– 10 Week Lead Time 
Custom Cups and Sealer Film
are the best way  to establish your brand.  Every time a customer walks away with your cup, they're walking away with an advertisement in their hand.  As a drink shop owner, your cup represents your store and your brand and proudly displaying your logo builds brand awareness and customer loyalty.
PP cups are the most common type of custom cup and come in 12oz (360ml), 16oz (500ml) and 24oz (700ml) sizes.
We can also print Custom PET, Paper Cups, PLA cups and Sealer Film.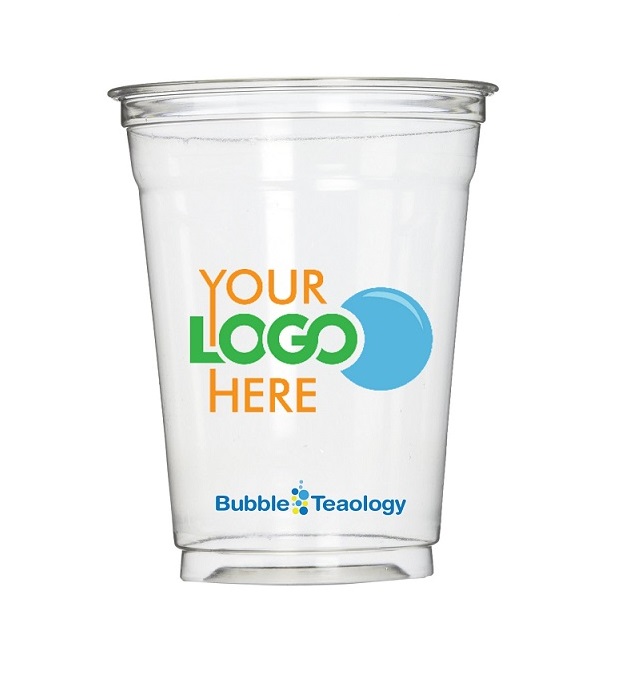 Bubble Tea Cup Logo Design
One of the best ways to have your logo designed is to use a platform an online platform like DesignCrowd.  With DesignCrowd you get to post a project and then you will have logo designers competing over your business.  They will send you designs and then you pick the ones you want!  No need to pay for anything that you don't need.
DesignCrowd Logo Design for $99.00
How much do custom printed cups cost?
Custom cups cost less than $.04/cup which is about the same price as clear cups!  Each size and type of material will have a MOQ (minimum order quantity) or 10-20 boxes which you will want to consider before choosing your custom cups.
What is the Minimum Order (MOQ) for printing plastic cups?
Our MOQ ranges from 15,000 for 24oz PP cups to 30,000 specialized cups.  Fill out our form below to get a custom cup sample quote!
How long does shipping custom products take?
Our custom cups are printed in Taiwan and usually take 5-6 weeks for printing and 5-6 weeks for shipping.  We send the cups by sea freight and can help with the importing process.  Our import coordinator will handle all of the paper work and make sure that the cups are sent to your business.  
Step 1:  Pick How Many Colors You Want
Step 2:  Send Us Your Logo
Step 3:  Confirm Template
Step 4:  Cups Will Be Printed (about 4 Weeks)
Step 5:  Cups Will Be Shipped By Sea Freight From Taiwan to You (about 6 Weeks)
How to get started custom printing?
First you will need to design your logo and figure out how many colors you want to use.  Each color has a $100 one-time molding fee so we usually recommend a logo with 1-3 colors.  Simple logos are usually the most effective.  You can also add your phone number, website, QR Code or any other importation information right onto your cup or sealer film!
After you have your logo designed, the next thing you need to decide is what type of material you want to use for your cups.  PP cups are the most economical for both cups and custom sealer film.  PP cups will have a lower MOQ (minimum order quantity) and a lower price than PET cups.  If you want to give your boba tea shop a high end feel, you can use PET cups which are thicker than PP cups.  Next time you go to a bubble tea shop, take a look on the bottom of their cups to see what kind of material they use.  Usually they will say PP or PET (PETE).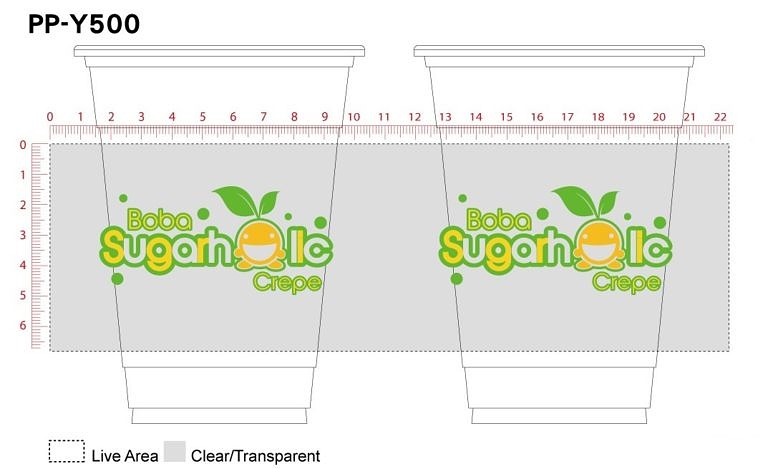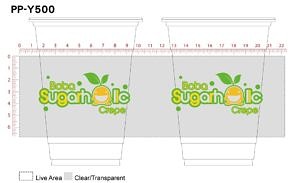 Sample Cup Template
Fill Out The Form Below For a Quote!