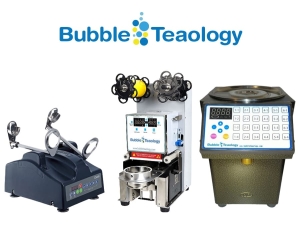 What equipment and supplies do you need to open a milk tea Shop? To open a milk tea store, you will need some
BubbleTeaology Learning center
The BubbleTeaology Learning center is an active community that helps business owners get started with Bubble Tea machines. We provide exclusive tips, How-To guides, and troubleshooting advice so you can avoid common mistakes when using Bubble Tea machines.
BubbleTeaology is the best place to learn about Bubble Tea Machines and Equipment. Our Bubble Tea Sealer Machine is the best on the market, and our team is passionate about providing the best possible service to our customers. When you buy from BubbleTeaology, you can be sure you're getting the best quality products and customer service.
Things you can learn from the BubbleTeaology Learning Center
How Much Does It Cost To Open A Bubble Tea Shop
You may ask, How Much Does It Cost To Open Bubble Tea Shop? The average cost of establishing a Bubble Tea Shop is between $75,000 and $500,000. Significant locations and those in populous areas are more likely to cost on the higher end of that scale. Shops in shopping malls or airports tend to be less expensive to start up. The majority can be up and running for between $125,000 and $200,000. Read More
Picking A Boba Tea Shop Name
Finding the right name for your Bubble Tea Shop is an important task. You want something that is catchy and memorable, but also representative of your business and personality. Read More
How To Market Your Bubble Tea Shop
Whether you are a new owner trying to get off the ground or an established business, constantly refining your marketing efforts will help your business grow year over year and keep you afloat during unexpected emergencies (like Covid).
The main ways that Boba Tea Shops market themselves are by word of mouth, through their website and social media accounts, promotions, positive reviews, walk-by traffic, and internal branding. Read More
How To Get A Loan For Your Bubble Tea Shop
Opening a successful bubble tea shop comes with so, me start-up costs which include proper equipment, employee training, high-quality ingredients, cups, and other supplies, and you might also need to remodel your location.  You can download our Free E-book below that has a sample start-up quote and some more information on opening a bubble tea shop. Read More
How Much Money Bubble Tea Shops Make
You May Be Asking, "How Much Profit Do Bubble Tea Shops Make?"
In case you didn't know, boba shops are a big deal. They're basically these adorable little cafes that serve up sweet and chewy tapioca balls in all sorts of flavors, and people can't seem to get enough of them! But how much do boba shops actually make, and are bubble tea shops a good investment?
To answer these questions, we need to look at the potential total revenue, expenses, and bubble tea shop profits. Read More
How to start a Bubble Tea Business
Before you can start your Bubble Tea Store, you will need a plan. The main purpose of writing a business plan is to show that you have clearly thought out your business ideas, evaluated the competition, know the costs of running your business and the potential profits, and fully understand the risks of opening a bubble tea shop. When you write a Bubble Tea Business Plan, you want to follow a specific format and show your investors that you are organized, responsible and know every aspect of your potential business.  Read More