Using a bubble tea shaker machine is a lot easier than shaking by hand and can be especially useful to help dissolve bubble tea powders and sugar that you might need to add to your drinks.  Not only is this machine practical but they also give your drink shop a professional and modern look which can help establish your store as a premium drink shop.
There are two main types of Bubble Tea Shaker Machines.  A horizontal shaker (Dasin SK 300) and a vertical shaker.  Both do essentially the same thing, shake up bubble tea.  This is actually how "bubble tea" got its name.  The shaking creates "bubbles" (泡泡 paopao in Mandarin Chinese).  The reason that people use a bubble tea shaker machine is simple. The machine will vigorously shake hot tea and mix it with the ice in the shaker cup instead of doing it by hand.  In Taiwan (where bubble tea was invented), a tea shop can sell over 1,000 cups a day, so shaking them by hand would be almost impossible!  With a shaker machine, you can give your employees a break and focus on customer service while the machine does the work!
Bubble Tea Shaker Cups
The Dasin Bubble Tea Shaker Machine can use both Plastic and Stainless Steel Shaker Cups that are either 500ml or 700ml.  The arms are adjustable to make sure that your shaker cup fits tightly.  Simply adjust the arms with the included hex wrench, and you're all set.
You can also add two 700ml PC Shaker cups to your order during checkout.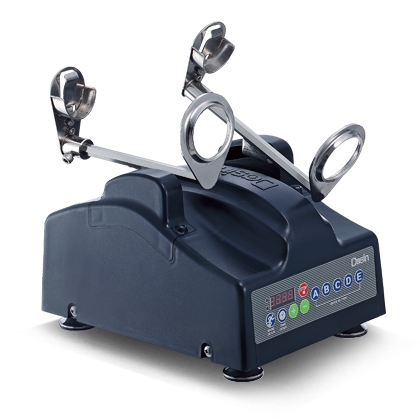 Shop our Bubble Tea Shaker Machine Here!
is our most popular bubble tea shaker.  It features a sleek and modern design to accentuate your Bubble Tea Shop.  Using a shaking machine will reduce employee costs and the new compact design also saves valuable counter space.  Shaker machines have become so popular recently that they're even used in cocktail bars.
Dasin SK300 Details:
Product Name:
Dasin SK300, SK-300

Certification:
CE Certification
Power/Voltage:
Our machines are available in both 110v (USA) and 220v (EU).  Please specify which voltage you require when purchasing.

Shipping Info:
We offer FREE SHIPPING on all of our Bubble Tea Machines. We ship using Express Airmail with insurance and a tracking number.  Your machine will arrive in about 1 week.
Warranty Info:
1 Year Manufacturer Warranty and 3 Years of Video Support
Check out: Where Can I Buy The Best Boba Machines?