How to Write a Bubble Tea Business Plan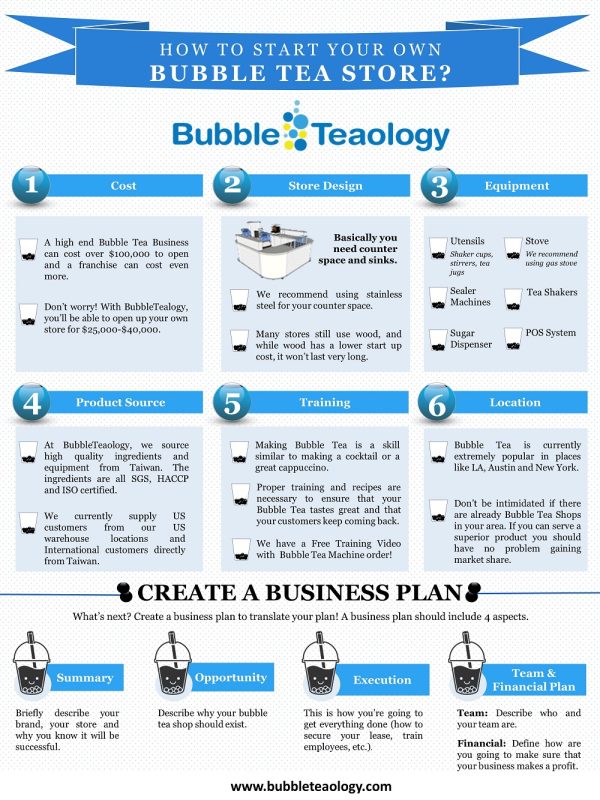 Before you can start your bubble tea store you will need a plan.  The main purpose of writing a business plan is to show that you have clearly thought out your business ideas, evaluated the competition, know the costs of running your business, the potential profits and fully understand the risks of opening a bubble tea shop. When you write a business plan, you want to follow a specific format and show your investors that you are organized, responsible and know every aspect of your potential business.
What's in a Bubble Tea Business Plan?
Executive Summary
Opportunity
Execution
Team and Company
Financial Plan
Executive Summary This is the 200 hundred foot view of your business plan where you briefly describe your brand, your store and why you know you will be successful at opening a bubble tea shop.
Example: BubbleTeaology will be an amazing Bubble Tea Shop in Chicago, IL.  The modern design will fit into a 500 foot square location that is newly constructed in ABC Shopping Mall.  BubbleTeaology will be convenietly located in the food court which receives over 10,000 weekly shoppers and potential customers.  Our colorful shop, smiling employees and authentic Bubble Tea will entice customers to try our expansive menu where we offer premium Bubble Tea made with 100% Taiwanese Ingredients. The executive summary should be 1 to 2 pages and if you're stuck on this one, you can write it last.
Opportunity:  Here you describe why your bubble tea shop should exist.  Are you the first one to the area?  Do you have a unique selling proposition or a unique background that makes you suited to sell bubble tea and out preform the competition?
Execution:  This is how you're going to get everything done.  How you're going to secure your lease, build your store, train your employees, source equipment and supplies.  Also, how will you build you establish and build your brand, get new customers and keep existing customers coming back for more.
Team and Company:  Your team and company will all start with you but you won't be able to do everything by yourself.  Investors want to be confident that you can find, train and hire great employees who will make sure your bubble tea business plan is a success. Here you will also want to go further into how your brand was created and why it is going to crush the competition!
Financial Plan:  Financial plans are crucial to banks and investors.  How are you going to make sure that your business makes a profit.  You will have both fixed and variable costs in your business.  The fixed costs will be things like your rent which will not change every month.  Variable costs will depend on how much business you're doing and will change every month.  For example, you might need 2 employees working at a time to start out but once things get busy, you will need more and this variable cost will increase. You will also need to calculate your costs and profits.  The best way to do this for a bubble tea shop is to think about your costs/cup and how many cups you need to sell a day to first break-even and then to make a profit. While writing a business plan for your bubble tea shop can seem like a daunting task, it will also help you organize and clarify your ideas.  Not only will this help potential investors but it will help you and give you the best chance of success.
A Bubble Tea Business Plan
will help to solidify your own vision for your boba tea store.  It will also be necessary to show to any investors or partners that you may have.  Also, if you require a loan from a bank than a business plan is an absolute must.   Once you have your business plan created then you will want to think about where to get your bubble tea machines, custom products, ingredients and how to design your bubble tea store.  
Sign up below to receive our free ebook on how to open a bubble tea shop to get some more ideas!