Automatic Tapioca Pearl Cooker
Version 2.2 (Sept. 2021 Release Date)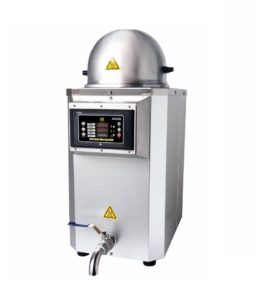 The new version 2.2 which features upgraded internal parts and a designated exhaust fan on the back of the machine is now available for pre-order (mid october ship date). 
Click here for more information.
One of the most important factors in running a successful bubble tea shop is having perfectly cooked boba.  This will set your bubble tea shop apart from your competitors and give you a huge advantage if you can master the process.
You basically have two options when it comes to making tapioca pearls or boba.  You can cook your tapioca pearls using the traditonal method on a stove or you can use an Automatic Tapioca Pearl Cooker.
Cooking Tapioca Pearls on a stove can be difficult and time consuming.  Anyone who has tried knows that you need to stir your boba constantly and cook them at the perfect temperature to make sure that they don't burn and get stuck to the bottom of your pot.  This time could better spent making bubble tea and giving your customers great service.
Our Automatic Tapioca Pearl Boba Cooker automates this process for you.  It boils your water, sets the temperature for cooking, automatically stirs your tapioca pearls and let's you know when your boba is finished.  This cuts down on employee costs and wasted products and also gives your bubble tea shop consistent and delicious boba everytime.
70 minute cooking time (plus 25 minutes to boil water).
Can cook up to 3kg (6.6lbs) of tapioca at one time.
 Stainless Steel Design
Magnetic Mixer
English Touch Screen
CUL and UL EPH Certification
How to use the Automatic Tapioca Pearl Cooker:
The Automatic Boba Cooker comes with an English Manual and an English touch screen.  The touch screen comes pre-loaded with cooking presets that can be changed if needed but the standard cooking time is 95 Minutes including boiling time.  You can speed this up by pre-heating or pre-boiling your water.
1) Water is Boiled – 25 Minutes (can be shortened by adding hot or boiling water).
2) Add Tapioca Pearls- Cooking Phase 1 – 15 Minutes
3) Optional Add-ons – After the 1st Cooking Phase you can add sugar or anything else that you want to flavor your tapioca pearls with.
4) Cooking Phase 2 – 35 Minutes
5) Stewing Phase – Here the heat is turned off and the machine will automatically stir your boba to make sure it doesn't stick to the bottom – 20 Minutes
6) Your Tapioca Pearls are Ready!  – Pour cold water into the machine and drain your cooked tapioca pearls.
Automatic Tapioca Pearl Cooker Features
Cooking your tapioca pearls with an Automatic Boba Cooker is one of the easiest ways to simplify your bubble tea shops SOPs and create delicious and consistent boba every time.
Our boba cooker is made out of stainless steel so it looks great and is easy to clean.  It also has patented technology like a magnetic mixer that can be easily removed for cleaning and will automatically stir your boba every 6 seconds.  The English Touch Screen panel is easy to use and allows you to change the parameters to shorten or lengthen the cooking time and the cooker can be used for both large and mini tapioca pearls.
Each machine has Free Shipping, a 1 Year Warranty, 3 Years of Video Support and CUL and UL EPH Certification to meet strict health department requirements.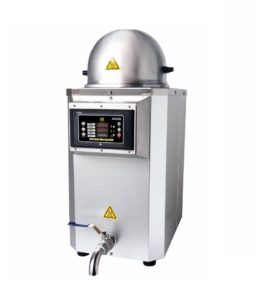 Automatic Tapioca Cooker
Product Number – F-915 Version 2.2 (Sept. 2021 Release Date)
Voltage– AC AC200V-240V (Single Phase / 60HZ)
Capacity – 1-3KG/Hour (9L-13.5L)
Size – 61cm(W) x  44cm(D) x 65(H)​
Weight – 17.3KG (20.5KG Shipping Weight)
Certification – CUL/UL EPH CERTIFIED
Warranty – 1 Year Manufacturer Warranty