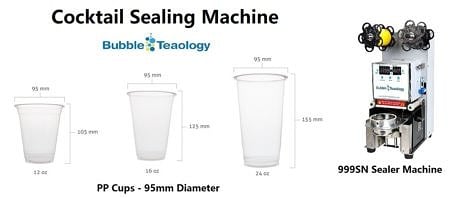 The Best To Go Cocktail Sealing Machine
Sealing to-go cocktails can be a great way to boost sales at your restaurant, bar, or liquor store.  Most alcoholic drinks need to be sealed in order to comply with open container laws which prohibit open alcohol to be carried in public or sold through drive-thrus.
Sealing your cocktail containers can be a great way around this. But be sure to check with your local state and county laws for specifics to make sure you are within the limits of the law.
The easiest way to get started sealing alcoholic cocktails is to use 95mm PP cups and PP Sealing Film with our 999SN Sealing Machine.  We can even put your custom logo onto the cups and sealing film.
Sealing Machine for Carbonated Drinks
Sealing carbonated drinks is becoming popular for fast food chains so that they can save time and money. Using sealing film is cheaper than traditional lids, and sealer film takes up less space than regular lids.
The process for sealing carbonated drinks is the same as sealing hot drinks.  There is a small pin that we install near the heater of the sealing machine. This pin will automatically poke a small hole into the sealing film. This will relieve the pressure from the carbonated drink.
Drink Delivery During the Coronavirus
The Coronavirus Pandemic is like anything our world has ever faced and businesses are trying to find ways to continue serving their customers. Since the pandemic started, most orders are delivery orders, a sealing machine can be a great solution to deliver alcoholic to-go cocktails, bubble tea, coffee, hot drinks, and even soup.
Contact Us Here and We'll Help You Pick the Perfect Sealer Machine For You!
Check out the article on Automatic Cocktail Shaker Machines