Universal Cup Sealer Machine
PP or PET Cups
Picking what type of cups to use in your bubble tea shop or restaurant is one of the most important decisions you need to make.  The two most popular types of plastic cups are PP and PET plastic cups.  PP cups are the most economical option and can be sealed with our Standard 999SN Sealer Machine.
PET cups are more expensive than PP cups and PET cups will be thicker than PP cups.  Usually PP cups have a top diameter of 95mm while PET cups have a top diameter of 98mm.  Our Universal Sealer Machine can seal both types of cups.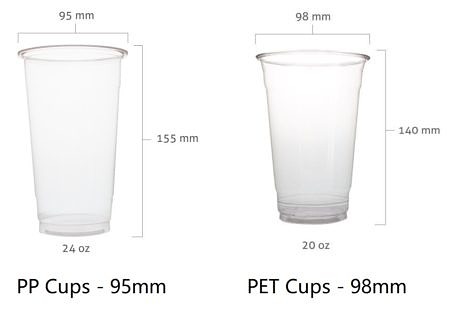 Universal Sealer Machine
If you aren't sure which size you want to use or if you might change your mind in the future then our Universal Sealer Machine might be the perfect choice for your store.
Our Universal Sealer Machine has a Universal Mold so it can seal both 98mm PET cups and 95mm PP cups.
Universal Sealer Film
Another important thing to think about is What Type of Sealer Film you're going to use.  PP Sealing Film can only be used on PP Cups so if you are going to seal PET cups you will need to use PET-ES Film
PET-ES film which is a Unversal Sealer Film and can seal most PP, PET, PLA, Styrofoam and Paper Cups.  You can add one single roll of PET-ES film to your sealer machine order on the product page.