The Delta Variant and Bubble Tea
2021 got off to a rocky start but by spring time, things were looking really good.  Optimism was in the air and vaccines were being distributed in the US and around the world.  The US quickly reached a high vaccination rate and everyone was ready to put Covid in the rearview mirror and enjoy the hot summer with a delicious cup of bubble tea.
But just when we thought we were done with the Coronavirus it comes roaring back as the more contagious Delta Variant. 
The good news is, is that according to Dr. Scott Gotlieb, we are most likely closer to being out of this than we think and this may be the "final wave" in the US.  As of August 2021, 71% of adults in the US received at least one vaccination dose and vaccination rates are continuing to go up as more people realize that they can't hide from the Delta Variant.  Sooner or later the virus will run out of people to infect and while the vaccines are not 100% protection, they are incredibly effective at preventing hospitalization and death which makes Covid manageable.
How to Keep Your Bubble Tea Customers Safe from the Delta Variant
The best way to keep your employees and customers safe is to have your employees wear masks all the time.  This will make them feel more relaxed and will not offend any customers who do not want to wear masks.  You can also post a sign saying that you are following CDC guidelines which most people will respect.
Also, having hand sanitizer when you first walk in is a great way to show customers that you care about their safety.  Having another bottle where your customers pick up their drinks is another great way to keep your customers safe and happy.
Finally, offer to go drinks and make sure that your bubble tea is sealed and make sure that you offer individually sealed paper or plastic straws.  This will add another layer of safety and help ease your customer's minds.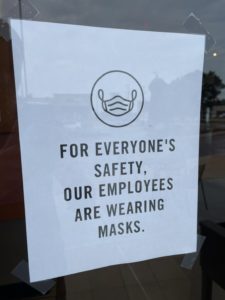 Hiring For Your Bubble Tea Shop During Covid
In 2021, it's hard to go anywhere without seeing a "Now Hiring" sign.  It seems like every restaurant, store and bubble tea shop is looking for employees.  This is mainly caused by the disruption from Covid and is slowly starting to correct itself.  Many employees are coming back to work and are starting to enter the job market again.  The extra unemployment benefits are set to expire in September, 2021 and the US Job Market added close to 1,000,000 jobs in July!
One way to get workers back to your bubble tea shop is by making them feel safe.  This can include things like requiring masks, temperature checks and having plenty of hand sanitizer.
Requiring a vaccine to work at your bubble tea shop is more controversial and this is a decision only you can make as an owner.  It will make some of your employees and customers feel safe but it could also alienate some of your employees so if you have a small team it is best to ask their opinion first.
While a lot of the problems caused by the Delta Variant are going to be out of your control, having your employees in masks and having hand sanitizer for your customers and employees will make everyone feel safer and will ultimately get us out of this mess faster.