Smoothie Sealing Machine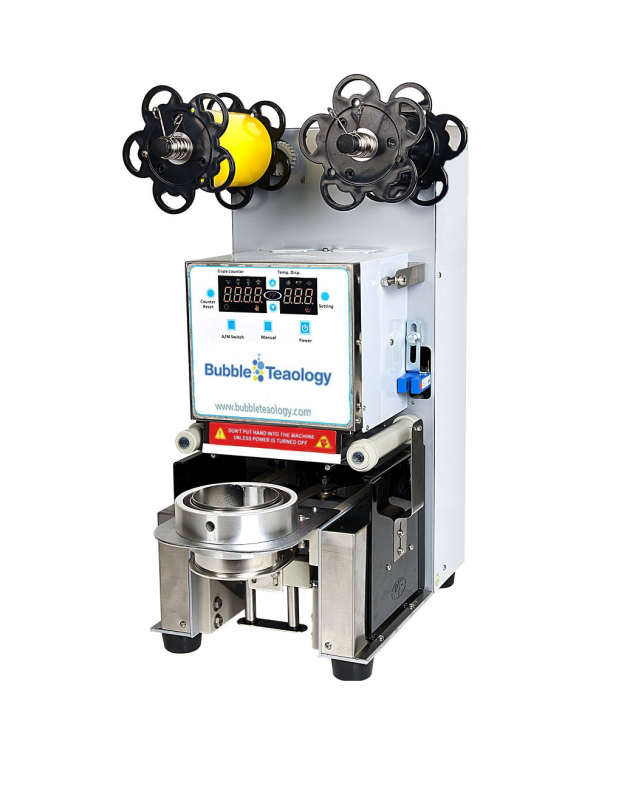 Plastic cup smoothie sealer machines are a necessity for any Bubble Tea shop owner or any shop owner that makes drinks or smoothies. Sealer machines produce an airtight seal on the cup with a special kind of sealer film. This is done by utilizing pressure and heat techniques.
There are so many reasons to have a smoothie sealer machine in your Bubble Tea shop. First, these machines can help shop owners save money. 1 roll of sealer film costs approximately $40 and can seal roughly 4,000 cups. That equals just $0.01 per seal! Traditional lids not only cost about double the price, but an average box only contains 2,000 lids.
Another important advantage of incorporating a sealer machine into your shop is that they help the environment. Sealer machines' film uses less plastic than traditional lids.
Additionally, customers are able to safely carry their beverages and smoothies when their cups are sealed by a sealer machine. The drinks do not spill and they remain fresh and delicious. Customers just have to poke a straw through the film and enjoy!
An important note to shop owners is to make sure that cups and sealer film are made from the same material. This will ensure a proper seal. For example, PP cups go with PP sealer film and PET cups go with PET sealer film.
Our smoothie sealer machines have the flexibility to seal 95mm PP cups and 98mm PET cups. They are also available in manual and automatic models. The automatic model requires you to only put the cup inside. The manual model requires you to pull the lever and put pressure on the unit manually to seal.
Our most popular smoothie sealer machine is the 999SN. It is made from long lasting stainless steel. It is durable, reliable, and is trusted by Bubble Tea shop owners all around the world.
The most important factor in deciding which sealer machine is right for you is to determine the diameter of the cups you will use. The standard diameter of PP Bubble Tea cups is 95mm. This is the same diameter, whether using 12 oz, 16 oz, or 24 oz cups.
There is no better time than the present to purchase a smoothie sealer machine. You will be saving your shop money, you will be helping the environment, and you will be helping your customers' drinks stay spill proof and fresh!