If you're considering starting a bubble tea business, one of the most important factors to be aware of is how much your operating and overhead costs will be. While it can be difficult to accurately predict these figures ahead of time, having a rough estimate in mind can make the difference between a successful business or a flop. 
Bubble Tea Cost Of Production
Here's an estimate of what it will cost you to make a 16oz cup of taro bubble milk tea below.  Keep in mind that bubble tea costs will vary depending on your supplier, location, and quality of raw ingredients.
50g of Bubble Tea Powder/16oz Drink = $0.42 cents | Powder priced at $8.50/KG

75g of Tapioca Pearls/16oz Drink = $0.14 | Based on $32.00 worth of case of 6 3 KG Bags

3g of Green Tea Leaves/16oz Drink = $0.03 | Based off $75.00 for 6000 grams of Green Tea Leaves

Custom Logo Cup $0.04/16ozCup

Seal = $0.01/cup

Plastic Straw = $0.01 or Paper Straw = $0.04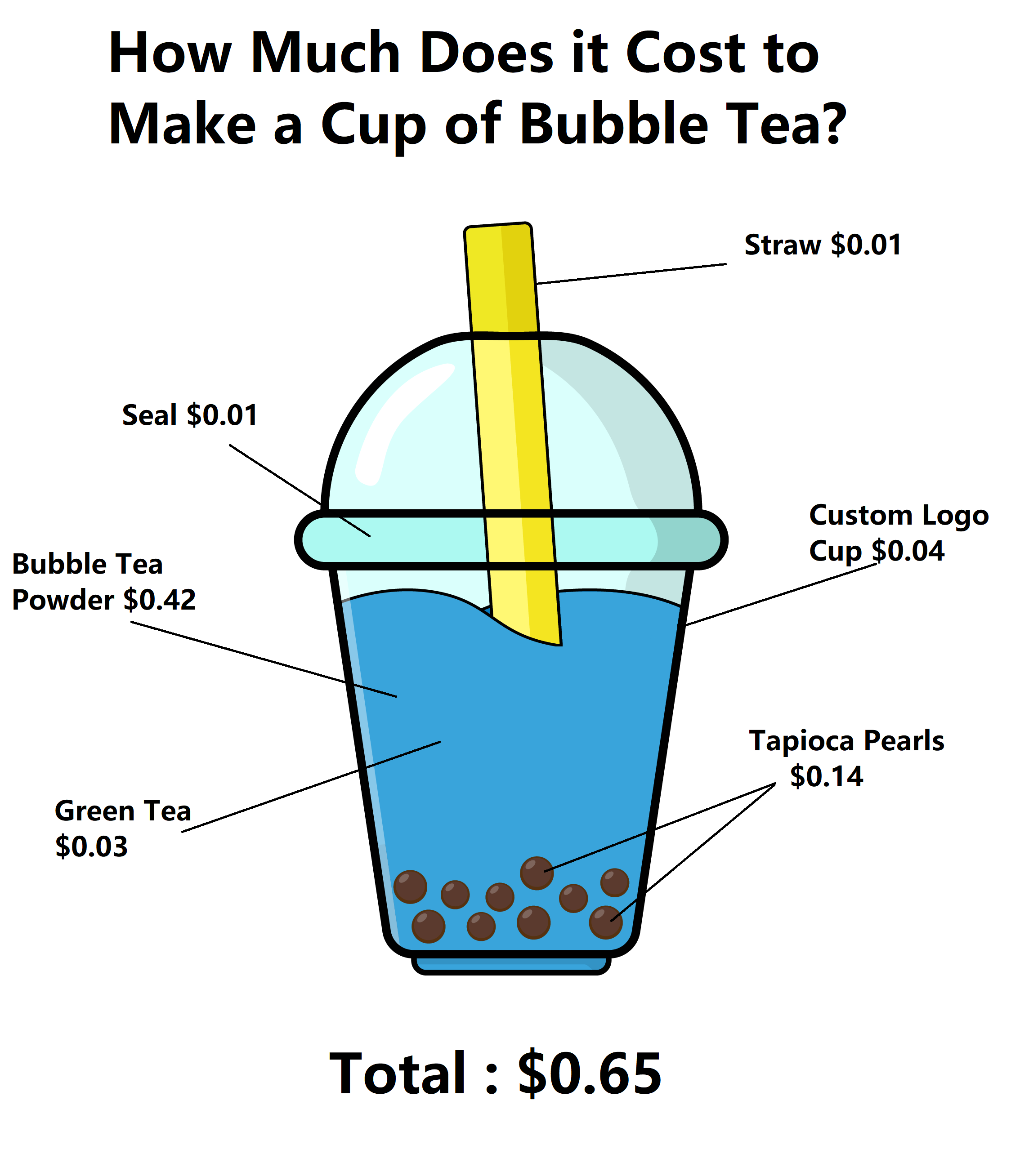 Total Price for a 16oz Cup (500ml) of Taro Bubble Milk Tea = $0.65
As you can see, the cost to make one cup of standard Taro bubble milk tea is right around $0.65. However, you'll note that some items (bubble tea powder, tapioca pearls, and tea leaves) are purchased in bulk, so you'll need to be prepared to put more down upfront. Moreover, more elaborate teas may include other toppings on top of the standard boba, including flavored jellies, puddings, and red beans.
Budgeting For Your Business
Now that you have a general idea of how much creating your boba tea will cost, it's important to factor in other expenses. Some other important categories to take into consideration include labor wages, insurance, furnishings, rent, upkeep of the facility, and advertising. It will be helpful to use this number to calculate just how many bubble teas you need to sell every month to thrive as a small business.  This way, you'll be able to track your progress over time and clearly see when you're not hitting the mark. 
Also, when you're picking your bubble tea menu prices, you'll want to make sure that you have enough profit left over for all your other expenses.  You'll also need to think about extras; What's the price difference between different-sized cups? Do you charge extra for more toppings? If so, how much? There are also sometimes differences in the prices for specialty ingredients and flavorings. This is the time to figure out how your business can compensate for those differences. 
While all of these details can feel overwhelming, they're essential to the vitality of your business. Take the time to write out your potential expenses and revenue, starting with a single cup of tea. 
Bubble Tea Shop Break-Even Point
Once you have your price per cup of bubble tea sorted out, you're one step closer to getting your "Break-Even Point" figured out.  This is basically where you calculate all of your costs and figure out how many cups you need to sell a day to "break even".  Obviously, the goal is not to break even but to make a lot of profit!  However, starting with your break-even cost is a valuable tool to make sure you're bubble tea shop is in the right location.  For example, if your break-even cost is 1,000 cups/day, then you are most likely in a place where rent is way too high.  Conversely, if you're break-even point is only 100 cups/day, and you're in a location with a ton of foot traffic and foodies then you might be in the perfect location!
You can download a free copy of our ebook below to learn more!