Looking for the Best Bubble Tea Machines and Bubble Tea Equipment? Look no further than BubbleTeaology the #1 Bubble Tea Machine Retailer worldwide!
We have a wide variety of machines perfect for any business, whether you're just starting out or looking to upgrade your current equipment.
Our Bubble Tea Sealer Machine is the best on the market and our team is passionate about providing the best possible service to our customers. When you buy from BubbleTeaology, you can be sure that you're getting the best quality products and customer service available. So what are you waiting for?
Shop the #1 Bubble Tea Machine Retailer today and start making delicious bubble tea!
BubbleTeaology is the #1 Bubble Tea Machine Retailer in the world
We have helped over 1,500 Bubble Tea Shops worldwide with their equipment needs. We would be honored to help you as well.
Bubble Tea Machines from BubbleTeaology
The most popular Bubble Tea Machines are Sealing Machines, Shaking Machines, Automatic Fructose Dispensers, and Tea Extractors. All of these Bubble Tea Machines are designed so that you can serve your customers the highest quality bubble tea possible while saving you time. And giving your drink shop or restaurant a professional appearance.
Picking the right Bubble Tea Machine can be hard because there are a lot to choose from.  There are also a lot of cheap knockoff machines on eBay and Amazon that are coming from China.  Even though these boba machines are cheaper, we don't carry them because they are lower quality and usually end up breaking after a few months.  We only work with the best Taiwanese Manufacturers who make the highest quality and most reliable bubble tea machines on the planet.  All of our equipment is also CE, UL or NSF Certified and has a 1 Year Warranty and 3 Years of Video Support.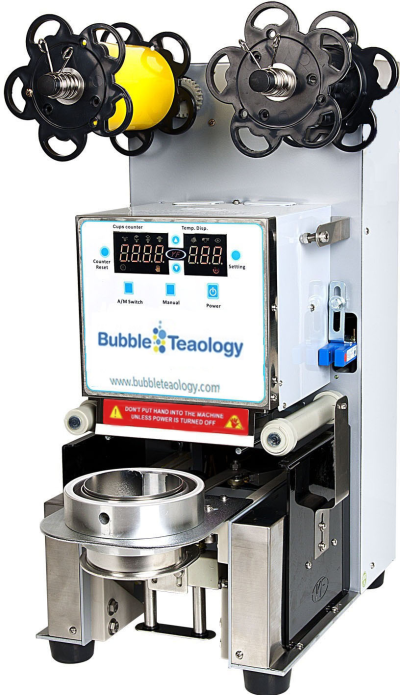 Boba Tea Sealer Machines are iconic in bubble tea shops.  Taking your fat straw and breaking the seal is as much a part of the experience as drinking the actual boba tea.  Cup Sealing Machines work by creating an airtight seal on whatever kind of cup or container that you use.  One benefit of an automatic sealer machine is that you don't have to waste any time manually sealing your cup.  Just place your cup in the machine and the sealer will do the rest.
These sealers are perfect for Bubble Tea, Coffee, Juice, Dips, To-Go Alcoholic Beverages, Gelato, and more!.  They also save money in the long run because plastic seals are much cheaper than traditional lids.  One roll of sealer film can seal about 3,900 cups and a roll takes up very little space compared to a box of lids.  The seals can also be customized with your logo to help you increase brand loyalty and recognition.
We have sealing machines for any type of cup or container that you have and our sealers can seal PP, PET, and Paper.  They also come with CE or UL certification to ensure that you comply with the local regulations in your country.
Our standard size sealer is 95mm (diameter) but we can also create 90mm, 98mm PET, and 120mm Jumbo and custom-sized rings for whatever containers you might have.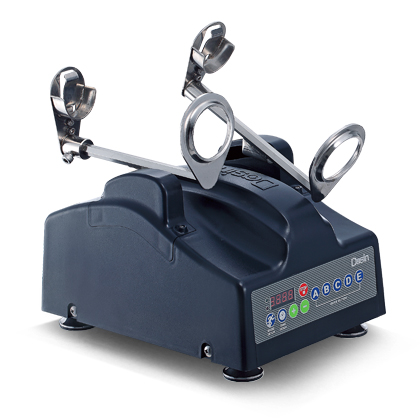 Boba Tea Shakers do all the hard work for you and make sure that you have a perfectly shaken drink.  Bubble Tea got its name from the "bubbles" that were created from shaking hot tea with ice so you will either need to shake your tea by hand or use a shaker.  Our shaker machines are designed to shake tea rapidly so that the hot tea dissolves the powders and mixes with ice to create a perfectly mixed drink.  Shaking with a machine can save time, reduce employee costs and give your bubble tea shop a more professional appearance.
Our most popular Boba Shaker is the Dasin SK300.  This is a tabletop model that features 10 speeds with 5 custom settings.  No installation is required, just plug it in and it's ready to go!  The compact and stylish design also saves counter space.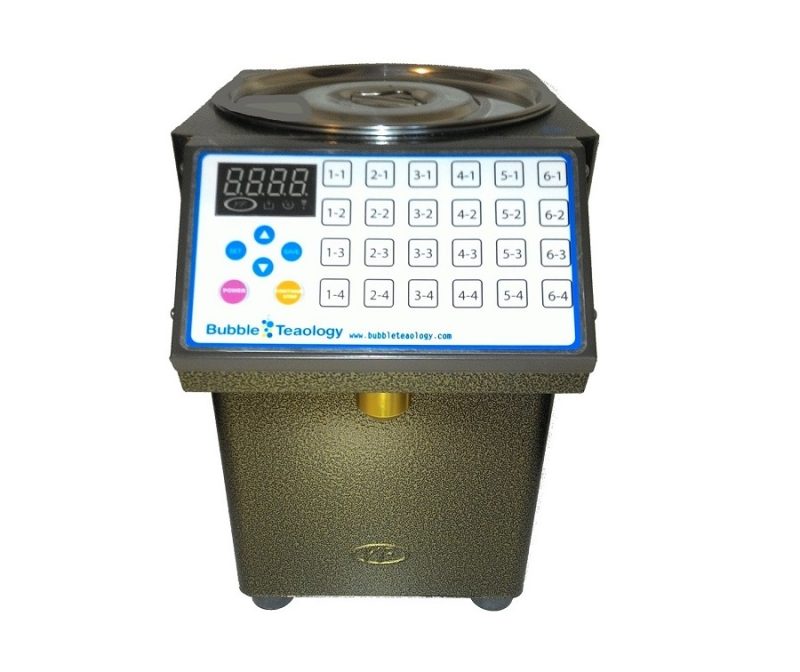 Bubble Tea Fructose Dispensers are the best way to keep your drinks delicious and the quality consistent.  Fructose is a type of sugar that comes from fruit and is a perfect way to sweeten your tea without using HFCS (high fructose corn syrup).  This machine is easy to program and has 24 buttons so you can have a different setting and sugar amount for every drink that you serve!
When you use the automatic sugar dispenser, your customer will get the exact amount of sugar that they order every single time they come to your bubble tea shop.  Consistent quality is one of the best ways to keep your customers coming back over and over again.  Having a boba tea fructose dispenser will also cut down employee training and costs by simplifying your SOP.
Bubble Tea Blenders are an important part of your bubble tea shop and having a Bubble Tea Blender will allow you to offer your customers more choices like smoothies and slushies (or freezes).  But before you go out and buy a blender from the store make sure that you consider these 3 factors: Power, Reliability and does it have a Sound Enclosure.
1) Blending Power
We recommend a blender with at least 1500 amps or 3hp peak power because you will be blending smoothies with ice and fruit on a regular basis.
2) Reliability and Warranty
Getting a trusted blender with a Warranty is a must because you will be using a blender day in and day out for smoothies puts a lot of strain on the motor and the blades.
3) Does it have a Sound Enclosure
A Sound Enclosure will noticeably reduce the decibels produced by your blender without having to sacrifice power and speed.
Automatic Boba Makers are great for giving your tea shop a unique and custom feel. You will have the freshest boba in town but you'll also be able to customize your boba flavors and colors.
Most tapioca pearls have a 6-month shelf life. The 3kg bag they come in needs to be used within a day or two of opening it. Making your own fresh boba solves this problem and this machine will make 9mm boba at a rate of 16-22kg/hour.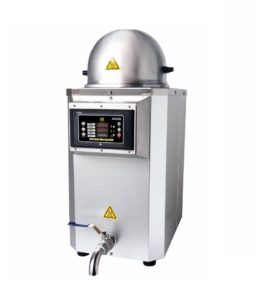 Automatic Tapioca Pearl Cookers are great for automating your bubble tea shop and delivering a consistent product to your customers every time.
This machine will boil your water, stir your tapioca, and has an easy-to-use spout to drain out all of your tapioca pearls once they're ready. The stainless steel design makes it easy to clean once you are finished. And the magnetic mixer makes sure your boba never sticks to the bottom and burns like on a stove.
Bubble Tea Machines are the perfect way to give your tea shop a professional appearance and state-of-the-art drink shop technology. Our 1-year warranty and 3 years of video support will make sure that your machines keep working for a long time.  All machines also come with free shipping and a free training video.
We ship our Boba Tea Equipment directly from Taiwan to the US and other countries around the world.  Shipping directly from Taiwan means you get genuine products at a lower price than most Bubble Tea Suppliers can offer. This is because we only need to ship our products once. We don't need to store them in a warehouse in your home country.
Additionally, every Bubble Tea Machine comes with a 1 Year Warranty and 3 Years of Free Video Support.
With regular maintenance, this equipment will last for years.  Most problems people encounter with them are simply solved by our support videos.  We continue to support our customers after the sale and believe in building long-term relationships with all of our customers.

What happens if your machine breaks?
One of the reasons we are the #1 Bubble Tea Machine Retailer in the world is, that we have a 1-year warranty on all Bubble Tea Machines/Bubble Tea Equipment.  We also provide 3 years of video support to help you fix your equipment if you have any problems.  Our sealer machine and fructose dispenser have a sophisticated PC Board built inside the machines that will alert you to any potential problems.  Most of these problems have an easy fix and we can also send replacement parts with installation videos.
Click here to learn how to fix your bubble tea machines.
Bubble Tea Equipment Certification
All of our Bubble Tea Machines come standard with CE Certification.  We also have UL (CUL For Canada) and UL EPH which are NSF/ANSI Compliant.
If you are in the US or Canada you may need to use UL or UL EPH Certified machines.  This will depend on your local health department so please check with your health inspector before ordering.
Click here for more information on CE, UL & NSF Certification.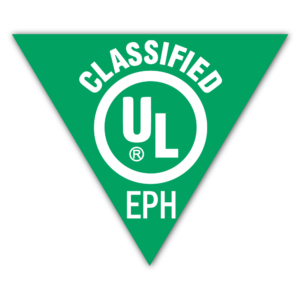 How to Pick the Right Bubble Tea Machine
There are a lot of Bubble Tea Machines out there. Picking the right ones can be hard so that's why we're here to help!
Sign up for our free guide below or click here to contact us with any questions.
Check out our: Bubble Tea Fructose Dispenser and our Tea Shop Blender Extractor and The Best Bubble Tea Machines and Equipment