Best Bubble Tea Shops in Taiwan
Bubble tea was invented in Taiwan and Taiwan is full of tea shops!  and even though Taiwan is a small country (about 1/5 the size of Illinois), it boasts a population of 24 million which is about the same population as Australia.  Most of the population is located on the western side of the island due to the mountains that take up most of the land in the middle.
This population density gives Taiwan a unique market place.  It's not uncommon to see four tea shops right next to each other or two 7-11s right next to each other!
Taiwan has thousands of tea shops ranging from big chains to small mom 'n pop storefronts.  I've decided to profile the most popular ones.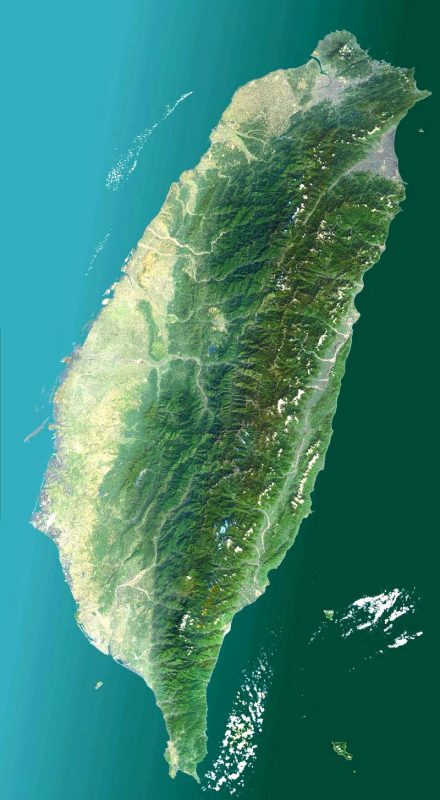 50嵐(50Tea)
50嵐 (pronounced in Mandarin Chinese as wǔshílán) currently has the most stores out of any other tea chain in Taiwan, about 560.  50Tea didn't always hold this crown but since they opened in Tainan, Taiwan in 1992 they have been forcing themselves into center stage of this highly competitive market.
Coco
Coco is an extremely popular international chain with over 1200 stores worldwide.  Here you can find fresh juice and smoothies.  Their quality standards and professional attitude make them a dominant force in the Taiwanese tea market.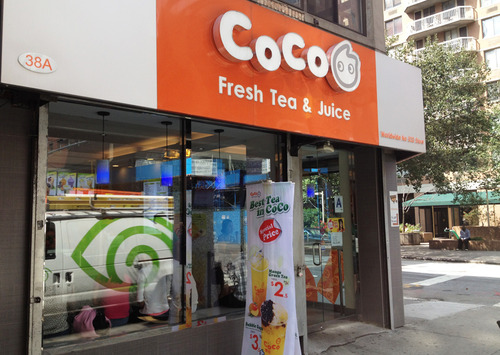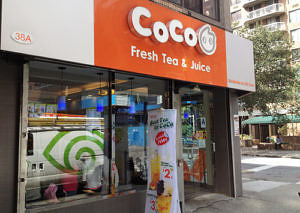 Qin Xin
Qin Xin used the be the most popular tea shop in Taiwan until it lost a good chunk of its market share to 50Tea and other competitors.  It offers descent drinks at a descent price but is often run by apathetic teenagers who seem to care more about texting than providing quality service.
Presotea
Presotea or 鮮茶道(xiǎn chá dào)has a unique approach to brewing tea.  Instead of using a traditional tea kettle, loose leaf tea brewing system.  They have taking the tea brewing experience and mixed it with an espresso machine.  I guess that's where the name came from presotea…?  Anyways, they take fresh tea bags and put them into the espresso machine.  The tea is then brewed in just seconds whereas the traditional method can take up to 45 minutes until the tea is ready for use.  In my opinion, the tea is a little bland, this is probably because the espresso brewing method, may look cool, but doesn't utilize all the tea flavor and nutrients from the tea leaves.  Unlike ground coffee, fresh tea leaves remain large and therefor need more time to be brewed correctly.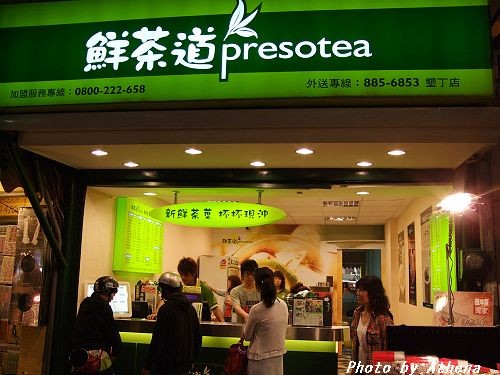 Gong Cha
Gong Cha is an international chain that has a descent share of the domestic market in Taiwan.  Their signature drink is 乃跑(nǎipào) or milk foam.  Is tea, usually green, with a semi-salty cream on top.  It's quite delicious and makes a very satisfying taste combination when mixed with the tea.  Skip the straw with this one and just drink it straight from the cup, this will insure that each sip gives you a combination of the milk foam and tea.  You also might get a famous milk foam mustache!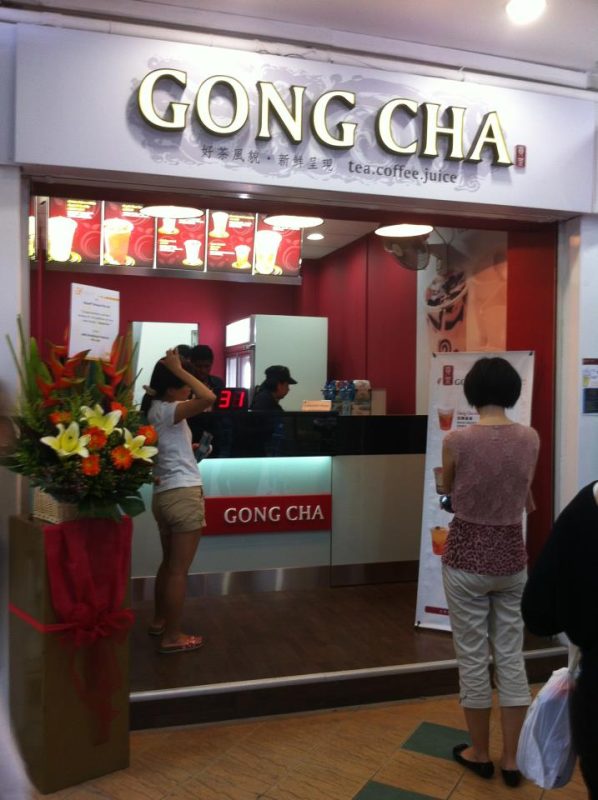 Qing Yu
Qing Yu or King's Tea has been hot on the local Taiwanese tea scene lately.  They revolutionized lemon green tea with their Jade Lemon Green Tea (翡翠檸檬綠茶fēicuì níngméng lǜchá).  This uses the highest quality Jade Lemons with green tea and gained enormous popularity in 2013 until a sugar controversy emerged late in the year.  Qing Yu claimed that they figured out the "Golden Ratio" between lemon and sugar.  This did taste great but when it was privately investigated the results were alarming and each cup contained the same amount of sugar as big gulp!
Taiwan's tea marketplace is reaching the point of saturation.  While companies fight for territory in Taiwan, others have already ventured outside the borders of Taiwan to help make Bubble Tea a worldwide phenomenon.
Bubble Tea in the US
Bubble tea shops started coming over from Taiwan in the 1990s and new bubble tea shops continue to open up.  The global bubble tea market is set to reach 3.2 billion dollars by 2023 and many independent entrepeneurs in the US and around the world are opening their own bubble tea shops.
[contact-form-7 404 "Not Found"]