Bubble Tea Sealer Machine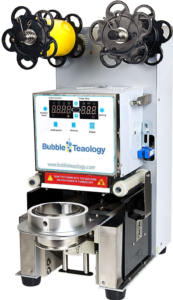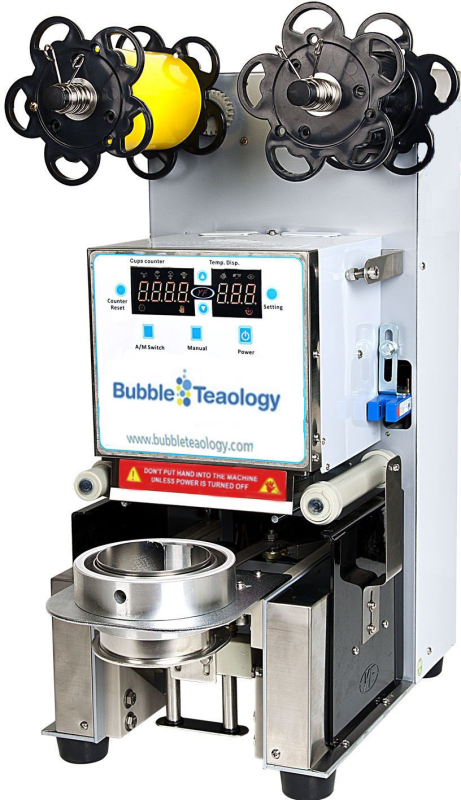 Bubble Tea Sealer Machines are an important part of any bubble tea shop.  Part of the whole bubble tea experience is getting a sealed cup and a fat straw that is just waiting to poke through the plastic and taste the delicious drink inside.  For many people, this will be their first experience with this type of drink that has a plastic seal on it.
Cup sealer machines work but using heat and pressure to seal a thin piece of plastic onto a cup or container.  The seal is airtight and makes the cup spill proof.  Quality sealer machines can seal PP, Paper and PET cups.  The most important thing to remember is to have a compatible cup and sealer film.  So if you're using a PP cup, then you should use a PP Sealer Film.
Most Bubble Tea Sealer Machines will have a fixed ring on them.  This means that they can usually only seal one size of cup or container.  This means it is important to find out the diameter of your cup or container before ordering a sealer machine.  The most common size of bubble tea cups are 95mm PP cups.  Other common sizes are 90mm, 92mm, 98mm (PET Cups) and 120mm Jumbo Cups.
A Universal Bubble Tea Sealer Machine will be able to seal both 95mm PP Cups and 98mm PET Cups.  PP and PET plastic cups are both great cups to use for drink shops.  They are both safe, transparent and can be customized with your logo.  PP cups are the most common type of bubble tea cup and are cheaper than PET cups.  PET plastic is a little bit harder and clearer than PP plastic so it is sometimes used in high end drink shops like Starbucks.
Bubble Tea Sealer Machines come in both manual and automatic models.  With an automatic sealer machine, you just need to place the cup inside and the machine will do the rest.  Manual machines require you to pull down a lever and put pressure for a few seconds on the cup to seal it properly.